YEREVAN (CoinChapter.com) — Kaspa (KAS) bulls pushed the coin 25% higher to a record high of $0.13 on Nov. 16. As a result, Kaspa coin's monthly gains stood at over 200%.
Moreover, the trading volumes soared with the price, confirming the high demand. While the volume alone does not indicate traders' bias, active trading, paired with a surging price, could indicate that the bulls are not done yet and could push the coin to another leg up.
The coin's social dominance peaked on Nov. 16, which could further facilitate the coin's bullish attempts through continuous investor interest.
The initial surge was due to the overall bullish sentiment on the cryptocurrency market following Grayscale's re-filed application for a spot Bitcoin ETF. However, Kaspa's latest collaboration could have influenced the Nov 16 surge. Read on for more details.
Uphold "fully integrated" Kaspa
In detail, the digital trading platform Uphold listed the KAS coin in April 2023. However, according to Kaspa's announcement on Nov. 16, it is also possible to "move KAS between Uphold and external wallets" as the platform "fully integrated" the token.
Initially, the Kaspa coin is classified as a "Tier 4" asset on Uphold. Users could not withdraw these coins to cold storage but could purchase, sell, hold, trade, swap, and transfer coins within the platform. Uphold said heightened user interest prompted the company to extend its collaboration with Kaspa.
Kaspa is a BlockDAG, not a blockchain
Kaspa is a proof-of-work (PoW) cryptocurrency that employs a GHOSTDAG protocol (a variation of a blockDAG) instead of a traditional blockchain.
Mathematically, Directed Acyclic Graphs (DAG) represent a graph with directed edges and no cycles (i.e., no path from a vertex back to itself), as seen in the graph below.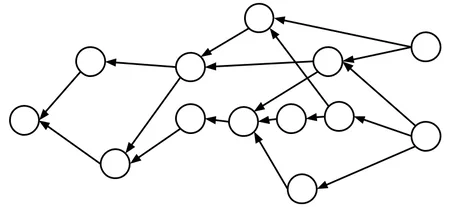 Both the blockchain and the blockDAG are distributed ledgers. However, they have different structures. A blockchain represents a chain of transaction blocks in an unalterable, chronological order. Conversely, a blockDAG is a network of individual transactions linked to multiple other transactions.
Furthermore, a GHOSTDAG does not orphan blocks created in parallel. Rather, it allows them to coexist and orders them in consensus.
According to the protocol's whitepaper, Kaspa supports high block rates while maintaining the level of security offered by proof-of-work environments. Kaspa's current main net operates at one block per second. However, core developers claim they will stretch the ten or even 100 blocks per second.